Our mission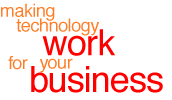 We make technology become a tool that works for your business.
Technology can enslave your business, or assist and grow your business.
Our aim is, that by understanding our clients business needs, to provide solutions that will continue to give them all the competitive advantages that technology can give.
This web portal provides detailed information on our vendor independent applications development, development support, and development tools.
By being committed to using tools that provide technology and vendor independence coupled with adherence to standards and a customer focused attitude, we offer IT solutions that will last longer and will support the newest technology sooner.
Our people

The consultants we provide are self-motivated individuals with a focus on their business area, they have often worked longer as business professionals than as IT professionals. They are backed up by technical specialists focused on understanding the details of advanced technology.
We employ a mixture of permanent staff and contractors who we have certified meet our standards of integrity, professionalism, experience and training.