Universal Bridal and Gift Registry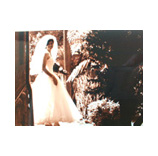 A multi-database, multi-lingual, web-deliverable gift and bridal registry to propel large retailers into the 3rd Millennium.
View this document as a PDF

.
Formed in 1996, March Hare Pty Ltd are an Australian company dedicated to assisting large organizations maximise the use of their databases by providing integrated and sustainable solutions using the rapidly expanding technology available to them.

March Hare stand at the forefront of the greatest technical challenge currently facing business - worldwide commerce and the internet (world wide web).

The Universal Bridal & Gift Registry™ demonstrates the ease with which March Hare addresses this technology:
Any Database Sybase, Oracle, DB2, UDB, Informix, Rdb, C-ISAM, RMS and more...
Any Operating System Windows 95/98, NT, MacOS, Alpha NT, VMS, MVS, OS/400, Unix, Solaris and more...
Any Delivery Windows Client-Server to a PC Character-type Terminal Web Browser to a home user or In store information booth E-Commerce for selling via secure transactions on the internet
Multi-lingual Pan European (English/French/German etc.) Far Eastern (Japanese/Korean/Chinese) Middle Eastern (Hebrew and Yiddish/Arabic)
Multi-currency $,¥,£,€ and more ...
Multi-date dd/mm/yyyy, mm/DD/yyyy and many more...
Any Printer HP LaserJet, Postscript, Adobe Acrobat PDF, and most popular impact and inkjet printers
The Universal Bridal & Gift Registry™ is designed to build and manage Registry operations for Large Retail Businesses.

Due to their highly specialised nature, Gift and Bridal registries were once the exclusive domain of custom built software packages allowing tight integration with other systems within the store(s).

The rapidly changing face of retail means that customers are demanding fast, easy access to facilities such as registries and catalogue information with more convenient purchasing options such as phone ordering and online shopping.

Designed for Large Retailers
Licensed to you with Complete Source Code

The pace of newly evolving technology is causing some organisations to lag behind in delivering systems to their clients. However, the March Hare Universal Bridal and Gift Registry gives you rapid delivery and up to the minute technology.

March Hare have spent considerable time and resources developing a comprehensive Gift and Bridal solution for the new millennium. A system that is not only current but well placed to integrate new technology as it is developed.

When you purchase the Universal Bridal & Gift Registry™, you gain complete access to the source code and a direct line of support to the team who build and maintain it. Adding functions, integrating it with other systems or customisation for your specific requirements is easy and straightforward.
March Hare's professional consultants are available to help facilitate either extension or integration of our software. We can provide your organisation with an individual consultants or an entire development team depending on your requirements.
| | |
| --- | --- |
| Maximum Integration with your current systems | March Hare have designed the Universal Bridal & Gift Registry™, its software, functions and overall sales package to maximise its effectiveness for large retailers. It is designed for maximum integration with your current systems - databases, operating systems, networks, computer hardware, printers and displays - while minimising the secrecy and proprietary content to enable the greatest amount of flexibility to your organisation. |
The detailed functionality of the Universal Bridal & Gift Registry™ is designed to meet your requirements in all areas including Maintenance, Reporting, and Delivery.

Included in the package are:
Customisation Module - all features can be enabled or disabled depending on requirements
Online ordering (e-commerce)
Online Browsing of the Registry
Online creating and updating of the Registry
In store Information Booth Browsing of the registry for clients and their guests.
Staff Only Creating / Updating / Browsing of the registry
Configuration Module (for setting up users/printers/stores/partners etc.)
Easy to read printed reports (hard copy or electronically via Adobe Acrobat PDF file).

Extensive Functionality - straight from your wish list

Gift Reports will be available by complete, sold or unsold listings. Breakdown categories will include:

Price Range
Department
Priority, i.e. most wanted gifts
Related gifts (e.g. TV & Video recorder.
By buyer (who has bought what)
Delivery by day/week/month
Sales by store day/week/month
Specific Business Rules include:
Unlimited number of parties to a Registry (i.e.: a Bridal Couple, an Individual or an entire graduating class).
Unlimited Number of Gifts and Groups of Gifts
Unlimited Gift Splitting (i.e.: 8 dinner plates can be purchased by up to 8 guests)
Gift Wrapping (i.e.: Each of the 8 dinner plates can be wrapped separately or together or any combination)
Gift Packaging (for courier / parcel tracking - each package can contain many wrapped gifts)
Gift to Inventory matching
Delivery Status (Holding, In Transit, Delivered, Returned etc.)
Registry Status (Open, Closed, Delivered, Archived)
Some of the more specific technical functions include:

Customisable key numbering
Customisable labels on screen (in any supported language)
Customisable Textual Addins (e.g.: on Gift List print "$10 Additional Fee per Gift");


March Hare have years of experience as systems integrators, and have written the Universal Bridal & Gift Registry™ to fit in with an enterprise model of computing.

The Universal Bridal & Gift Registry™ is capable of integrating smoothly and simply with your current environment to ensure ease of use and a minimum workload for staff.


The Universal Bridal & Gift Registry™ can either:


integrate with your current inventory system with regular downloads ensuring current and accurate information for staff and clients. Downloads can be specified to cover entire inventories or a specified selection of line items. or
stand alone.

With an
enterprise
model -
integration is
straightforward
The Universal Bridal & Gift Registry™ can interface with/access information stored in separate databases when a registry is kept on another computer (e.g.: another retail chain that shares their registry with you, either locally or overseas).

The Universal Bridal & Gift Registry™ can be used and maintained within a single store, a small/medium retail group or a worldwide chain.

When used online (via the World Wide Web), the Universal Bridal & Gift Registry™ expands with almost unlimited possibilities. For example, you can choose to:

link to your partner's web sites (for registries not stored on your system),
link your vendors web sites (for product information).
add colour images of line items to give clients and buyers a more thorough understanding of the gift selection.
enable overseas guests to purchase from home
customer
convenience
and online
shopping
means more
sales for
you

By choosing to develop in Java, we are in partnership with the largest IT vendors in the world, including IBM, Sun and Oracle. These organisations provide us with tools and resources which enable March Hare to develop and supply proven, standards based , vendor independent solutions to businesses today.

The Universal Bridal & Gift Registry™ will be available for demonstration in Australia in Q3 2000 and in the UK in Q4 2000.

Parties interested in purchasing the Universal Bridal & Gift Registry™ in early 2000 will be in a unique position. Excellent price incentives are ensured as is the opportunity to effect the features that will be available in the software from day one.
The Internet / World Wide Web presents the technical challenge we once faced with Windows. Taking advantage of new and advanced technology demonstrated by the Universal Bridal & Gift Registry™, will put your organisation in the forefront of the retail industry for the new millennium.

Providing a comprehensive and worldwide registry service to both your clients and their guests/buyers is a major marketing tool that will not only save you and your customers time and money but significantly increase your global profile.

Universal
Bridal
and
Gift
Registry



Talk to March Hare now about their Systems Integration and Professional Services using Java development tools that the Patricia Seybold Group call:

"a powerful, highly productive programming language that is well suited to enterprise applications systems development."

For more information about the Universal Bridal & Gift Registry™ please contact:

March Hare Pty Ltd

38 Wirringulla Avenue,
ELVINA BAY NSW 2105
PO Box 265 CHURCH POINT
NSW AUSTRALIA 2105
www.march-hare.com
consultants@march-hare.com


Australia: 1800 09 2886
Int'l: +612 9979 3788
Fax: +612 9997 3861

Universal Bridal and Gift Registry is a trademark of March Hare Pty Ltd. Screen shots are indicative of functions only.